"I don't think there is always language that serves our clients in the way they deserve to be served."
When words fail, Jordan Graves turns to art. Graves is a therapist on Wyandot Center's Early Intervention Treatment (EIT) team, working with individuals experiencing psychosis. An artist herself, Graves has used art as a coping skill for years. Now, she's helping others process their experiences and emotions through an art journaling group for EIT and young adult clients.
"A lot of the people who are attending this group might not show up for a talk therapy group," Graves says. "With all of my clients experiencing psychosis, there aren't always accurate words to describe what they're experiencing. There's a lot of stigmatizing language. But this group allows them to express themselves artistically and nonverbally. To be able to remove words from the picture entirely can be very empowering and freeing."
Each week, Graves gathers the group and they decide on a prompt. The group has tackled a number of topics, including making art about their recovery journey, their mental health diagnosis or symptoms and the emotions they are feeling in the moment. During the final session of the group, Graves asks each participant to create a letter without words reflecting on their time in the group.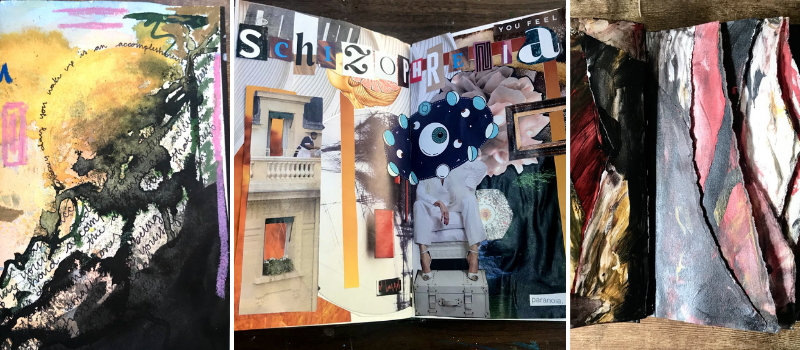 Graves hopes that each person in the group leaves with an understanding that their experiences can be beautiful.
"I want them to see that they can turn their experiences into an asset," says Graves. "Because they have experienced challenges that others can't fathom and they have been able to work through those experiences and get to a better place. If they can do that, they can do anything. And people can learn from them."
While the group is still a fairly new offering from the EIT and young adult teams, reaction has been very positive. Graves and EIT team leader Maria Loconsolo say they've seen significant growth among the individuals in the group, from making connections with others to finding their voice and taking on leadership roles in the group.
"I think anybody who sees artwork from someone with lived experience is going to learn something."
"There is a client who has been in our program for quite a while," says Loconsolo. "This group appears to have been a big confidence boost for them. They really emerged as a leader in the group. I don't even know to what extent they have self-reflected on what they accomplished by just being themselves. They really came out of their shell and helped other people."
Loconsolo says there is a lot that can be learned from the art that is being created in this group.
"I think anybody who sees artwork from someone with lived experience is going to learn something," says Loconsolo. "I think that's the beauty of art. When we interact with it, it impacts us on multiple levels that we don't even consciously acknowledge in the moment when we're looking at a picture."
Graves says she believes that exposing the community to the art made by individuals with lived experience of mental illness could be particularly impactful in advancing conversations around mental health.
"People need to know what it's like to live with the things that these individuals are living with. That's a big part of breaking the stigma. We need representation in our communities."